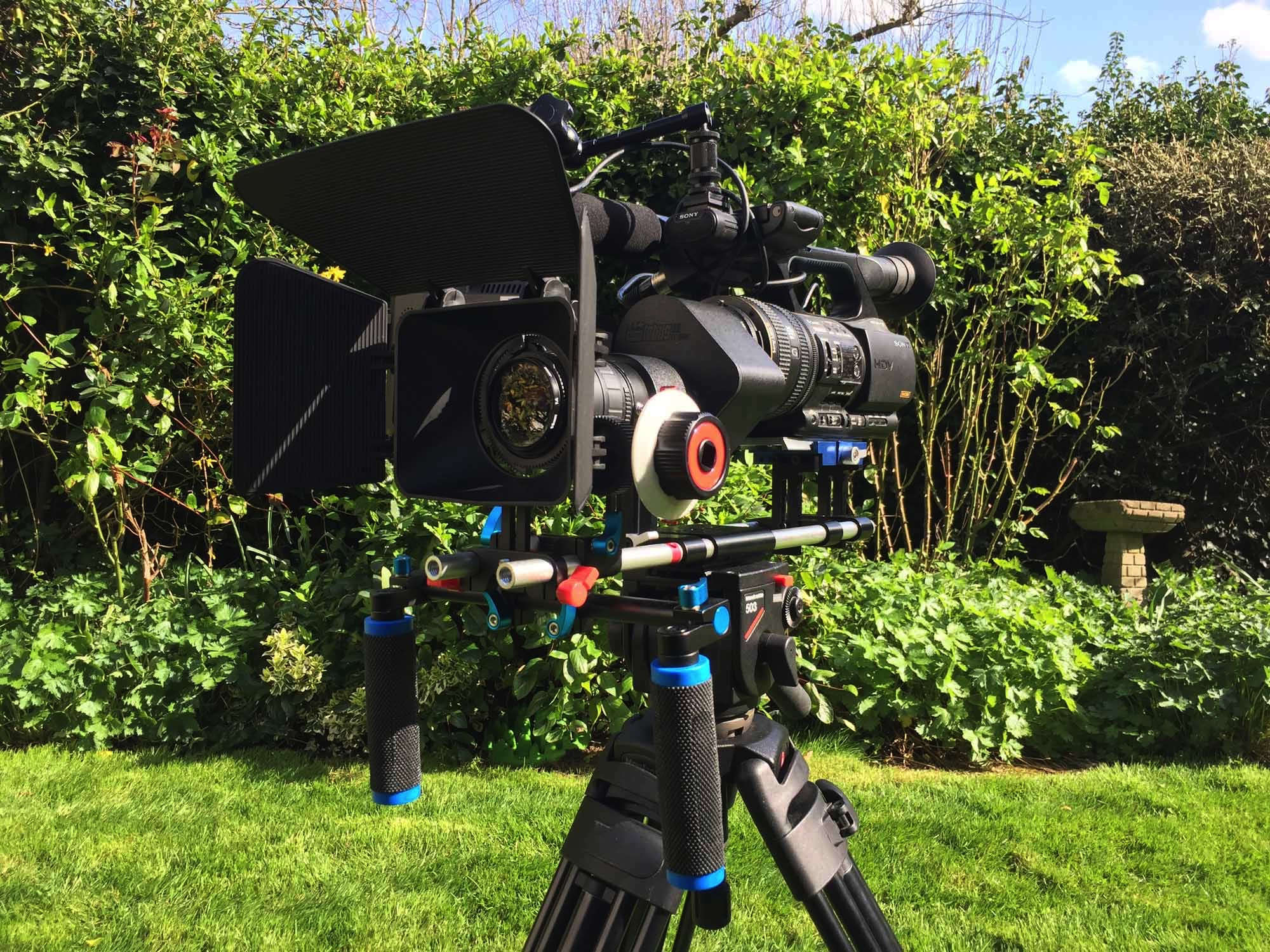 Dulwich Studios had its humble beginnings in Josef's garden who started making short films as a teenager. He quickly found success with shorts such as "The Secret Of Pirate Island", for which he won the SOLO Award for Best Director Under 20 and Spaceship Street which had its premiere at The Brixton Ritzy.
Creating short films and web series remains at the heart of Dulwich Studios and we're incredibly proud of the stories we tell. We work hard to push the boundries of what is possible for a small independent studio with no funding and a limted budget while still creating high quality content that our audience finds entertaining.
Stars Of The Future, our 10 part mockumentary series, was one of our most ambitious projects requring a two camera shoot, large cast and specific locations while our comedy short film Being A Superhero made extensive use of spectacular visual effects to bring the action to life!
David Ribi and Josef Pitura-Riley shooting a scene for our new short film REWIND. (2018)
We've worked on a wide variety of different productions with clients such as Woofstock Festival, The Intergenerational Foundation and WoodlandsTV. Combined we have shot over 100 short documentaries, "how-to" and promotional videos in a wide range of locations from the wilderness to Westminster Palace. We're extremely experienced in this area and have built up a solid system that allows us to produce high quality films every single time.
In addition to this we also film showreel scenes for actors and have filmed several live productions including "Between Us: The Musical" at The Mermaid Theatre and "My Fair Ladies" at The Prince Of Wales Theatre in the West End.
Elizabeth Carter from the live recording of Between Us: A New Musical filmed at The Mermaid Theatre in London (2017)
Most reccently we've lauched our Acoustic Session packages where musicians can get both great video of them performing live and also high quality audio tracks that they can release on iTunes, Spotify and Apple Music.
In addition to this we also have our own recording studio for audio only projects, where we record and mix EPs and Singles for local musicians, Singing and Voiceover Reels for a range of performers and also edit audio for high profile clients such BMW and Rolls Royce.
Josef Pitura-Riley on the camera while shooting the music video for Only One with Will Tierney (2013)
2018 saw the relaunch of Dulwich Studios and the start of several very exciting projects, most notably the shooting of a brand new short film REWIND which is currently due for release later in 2019. This welcome return to the world of short films doesn't end here with other projects in the pipeline and in the meantime you can check out all our previous films which are available to watch for free on this website.
Whether we're working on one of our in house prductions or a project that you bring to us, we pride ourselves on always going the extra mile to make sure everything we work on is as good as it can possible be.
From Short Films, To Documentaries and Music Videos
Welcome to Dulwich Studios: a small independent film and recording studio created by actor, musician and award-winning filmmaker Josef Pitura-Riley. Originally setup to film and produce the short films he made, the studio has continued to grow over the years and now works on a wide range of content.
In addition to our own in house productions, Dulwich Studios has now expanded into working on projects for other people inclduing Showreels, Music Videos, Documentaries, Promo and How To Videos as well as Acoustic Live Sessions for musicians.
Dulwich Studios also has a history with music too and has worked on several music videos and live gig recordings.