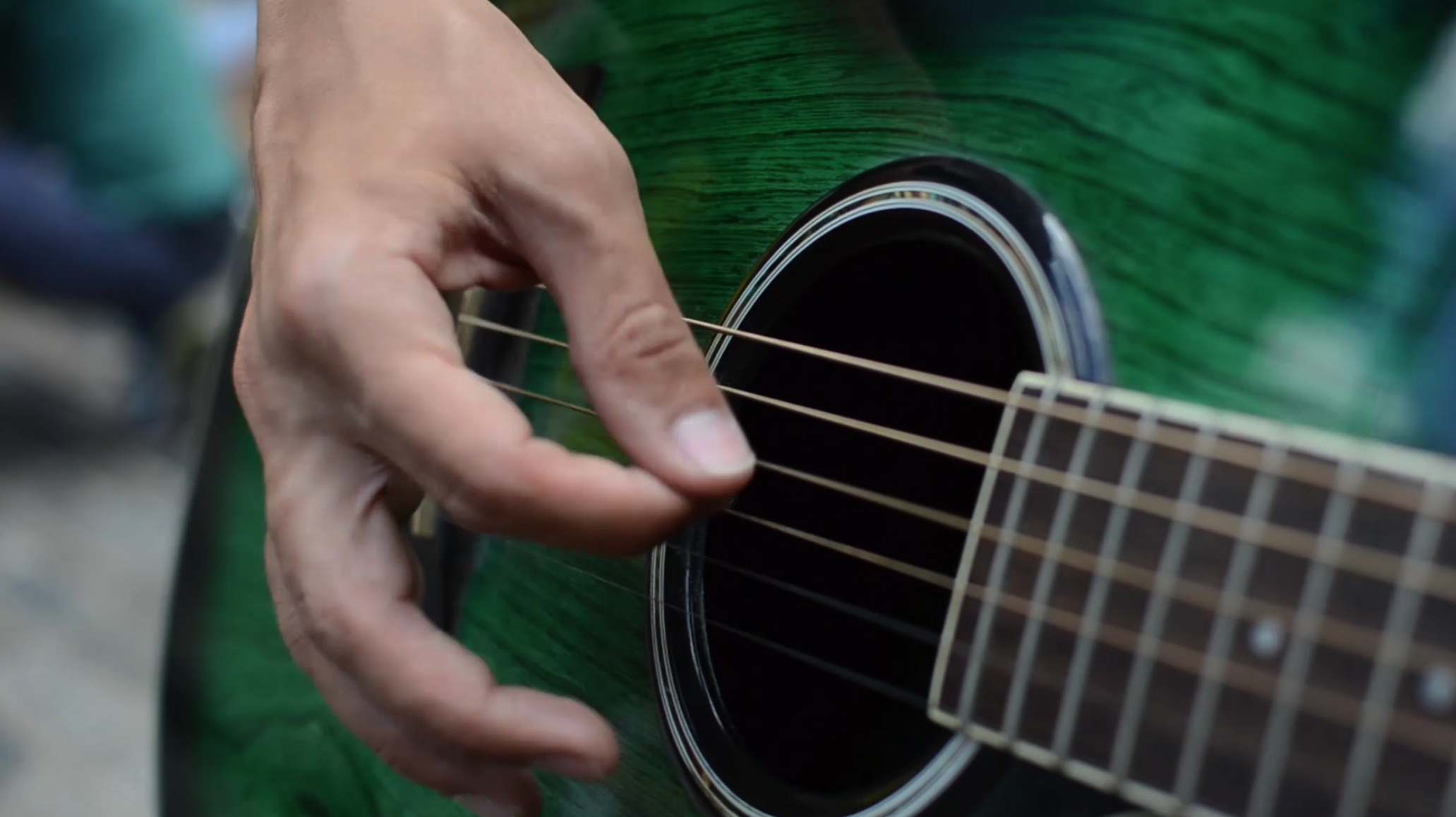 Acoustic Music Videos At A Low Price
Things To Consider:
How Many Instruments/People?
We can record up to four instruments - including the voice. If you're a solo performer or duet you'll most likely be fine, but for larger groups you'll need to bear this in mind before you book.
(If you do need to record more than four instruments Contact Us and we'll see if we can help you out)
Choose the right location!
We recommend choosing somewhere indoors and quiet in order to get the best results since we can't control the weather or anyone else who may be around. Remember to get permission in advance if you need to.
Be Well Rehearsed!
The whole point of an Acoustic Live Video is that it captures a geniune performance so make sure you're well practiced and know all your lyrics. Our fancy cameras and microphones can't make you look and sound better if you mess up.
Original Songs Are Best!
We recommend you only record original songs to which you own all the rights. We won't stop you from recording a cover of someone else's song if you really want to but keep in mind that you will need to get permission from the copyright holders before you can release it. Dulwich Studios does not bear any responsibility if you fail to do this.
Let Us Know!
How many instruments do you have? Do you want the finished video to be in Black & White? Do you want to include your band logo in the video? Let us know all these things as soon as possible.
Professonal Live Acoustic Videos
If you're an upcoming Musician, Singer/Songwriter or Performer then you'll know how important it is to have an online presence to showcase your work and there's no better way to show off your music than with video.
Our special Acoustic Live Videos are a great way to engage with your fans as they get to see you doing what you do best without having to wait until your next show. It's also really useful for when it comes to booking those gigs too since venues and booking agents often want to see you perform before they book you.
By adding your very own live session to your EPK, Website or uploading it to YouTube you're not only giving your fans more of what they want but also putting yourself in a great position to move forward.
After our session you'll recieve both the professionally edited video of your performance, but also fully mixed and mastered audio tracks which you can release on your website. Thanks to our competitive pricing you can record multiple songs in one session to release gradually OR release the videos all at once along with the audio tracks on iTunes and Spotify as your own acoustic EP! !
Pricing
1 Song - £149
Includes:
2hr Recording Session
1 Edited Acoustic Music Video
1 Professionally Mixed And Mastered Audio Track
2 Songs - £199
Includes:
3hr Recording Session,
2 Edited Acoustic Music Videos,
2 Professionally Mixed And Mastered Audio Tracks
3 Songs - £249
Includes:
4hr Recording Session,
3 Edited Acoustic Music Videos,
3 Professionally Mixed And Mastered Audio Tracks
EP Package - £349
Our premium package where we'll help you put together an entire EP.
Includes:
5hr+ Recording Session (4 song Max),
Edited Music Videos for All Songs,
Professionally Mixed and Mastered All Songs,
Cover Artwork,
Social Media Banners & Posters,
Advice On Releasing Your Music On iTunes and Spotify
A Packaged EP Ready For You To Release To Your Fans!
Who Is It For:
Our Acoustic Live Videos are specially designed for Singer/Songwriters, Duos and Small Acoustic Bands at all points in their musical career.
If you're just starting out, it's a great way to get a high quality music video of you performing and along with a professioanlly mixed audio track of your song which you can release to your first fans. Money is tight when you're first starting out and our acoustic videos are priced competitively to reflect that!
Or if you're a more established act you might want to record acoustic versions of your biggest hits. You can upload the videos to your website and release the audio on iTunes and Spotfiy as a special Acoustic Single or EP to keep your fans interested while you're in the studio working on your next album!
How It Works:
Step 1:
Once you've booked in a session you'll need to decide on a location to film. We recommend choosing somewhere indoors and quiet to get the best results.
Step 2:
On the day we'll start by setting up both the cameras and microphones to capture you at your best.
We can only record up to 4 instruments including the voice, so bear this in mind if there are multiple people in your act.
Step 3:
After a quick soundcheck it's time to record. We film and record the audio simultaneously so you can perform exactly how you would at a gig.
We usually film each song two or three times before we decide with you which was the best take and the one we'll use for the final video.
Step 4:
The footage is taken back to our studio where we'll edit the video together.
This is also the point where we can add in any text such as your Artist Name, Website or Band Logo.
Step 5:
Once our work is complete we'll send you the finished video and fully mixed and mastered audio of your performance as seperate files.
You are then free to add these to your own Website, YouTube or EPK.
To book a session click the Book Now button above to send us a message and we'll reply ASAP.
Why Choose Us?
There are many companies and studios who offer Acoustic Video packages but we believe ours are the best. We film in the location that you specify to give your videos a truly unique and personal look. Most of our team are musicians themselves who understand how things work and can help you get the most out of your videos.
Once the work is done you'll recieve the professionally filmed and edited video of your performance but also the final mix of the audio which you can release on iTunes or Spotify.
Each video is tailored to the individual artist. Want the video to start with your band logo, or end with a link to your website? No problem! We'll always go the extra mile to make sure you get exactly what you want.
And all this comes at a competitive price. Since most unsigned and upcoming musicians don't have large amounts of money to spend, we've designed our acoustic live videos specially so that you can record a great performance without breaking the bank!
Acoustic Sessions - Filmed By Dulwich Studios
Beyond The Sea - performed by Josef Pitura-Riley
Frank - an original song performed by Al Howell